Davido Adeleke, the superstar Afrobeat artist, is said to have married his fiancee, Chioma Rowland, days after their kid died.
According to reports, the singer married the professional chef a week after their son died to cement their relationship.
Davido was claimed to have made the marriage arrangement at his father's house in the presence of a few friends and family.
The arrangement was frowned upon by the singer's other baby mamas, according to the controversial blogger who broke the news.
Both couple are still mourning and Chioma has lost a lot of weight but the Adeleke family are trying all they could to make sure both Husband and wife are fine.
It's finally official, Meet Mrs Chioma Adeleke, although words got to the other Baby mamas and my source said they are not happy about the new development, as a matter of fact Sophia Momodu is yet to call Davido to sympatize with him of which other baby mamas sent their condolences.
Chioma is still trying to be fine and under serious watch as few weeks before Ifeanyi's death, her personal room was mysteriously burnt and the source of the fire was not known till today so her family decided she won't be coming back to social media anytime soon so they don't harm her any further.
WE ARE CURRENTLY PRAYING WITH MR AND MRS ADELEKE THAT GOD SHOULD CONSOLE THEM FULLY AND THEY SHOULD COME BACK TO US HAPPY AND GLOWING AS WE USED TO KNOW THEM. ITS OFFICIAL, DAVIDO LATER PUT A RING ON IT. I come in peace."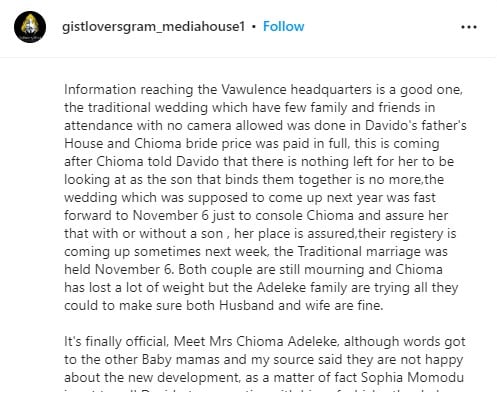 Do you find Xclusivesongs useful? Click here to give us five stars rating!