Big Brother Naija 2022 winner Ijeoma Josephina Otabor, commonly known as Phyna, has been appointed by Edo
state governor, Governor Godwin Obaseki, as the Mid East (Edo/Delta) Youth Ambassador.
The reality TV star announces the appointment by the Governor via Commissioner of Youth and Sports on Wednesday, November 9th, 2022 via her Instagram story @unusualphyna. The grateful reality TV star writes, giving all praise to God:
"Through the commissioner of youth and sport, the governor of Edo State appointed me as the incoming Mid East (Edo/Delta) youth ambassador, Glory.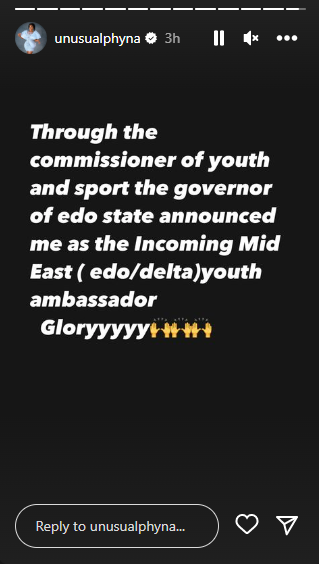 Meanwhile, the Hype priestess received 10 plots of land, among other presents, from the Esama of Benin, Chief Sir Dr Gabriel Osawaru Igbinedion, during her visit to his palace. The Esama also christened her 'Olokunameh,' which means 'the goddess of wealth,' and led prayers for her with her colleagues who escorted her to the palace.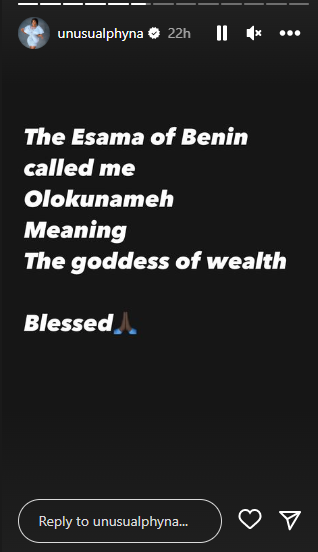 On behalf of the governor, Mr. Godwin Nogheghase Obaseki, the Commissioner for Youth and Gender Issues, Hon. Andrew Adaze Emwanta Esq. JP, stated that the state government is eager to collaborate with the star to achieve Vision 2050.
Furthermore, this is the latest in a string of positive developments for the influencer-turned-youth ambassador. She also recently signed a deal with Rixari Skin Secrets, a luxury skincare brand.
Do you find Xclusivesongs useful? Click here to give us five stars rating!